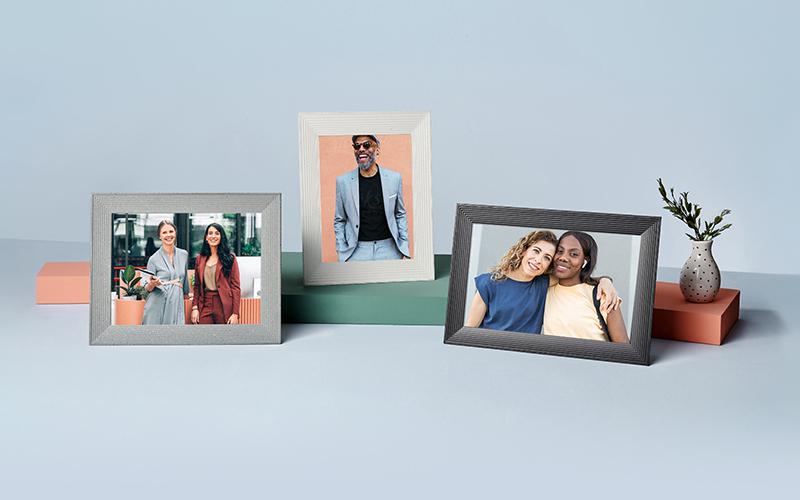 Corporate gifting
Perfect for holidays, employee recognition,
work anniversaries, and more.
Frequently asked questions
Is there a minimum quantity required?
Yes, we require a minium of 20 frames (same style, same color) per order.
Do you ship internationally?
At this time, we only ship to the US and Canada. We offer a flat rate option when shipping to a single address. Additional fees apply for drop-shipping.
What is the difference between each frame?
You can review our full line-up of frames here.
Can I customize my order?
We offer a variety of customizations, including adding your logo to the frame or gift bag, or pre-loading the frame with a personalized video. Custom orders have a 100 frame minimum. Additional fees apply.
How long will it take for me to receive my order?
A personalized timeline will be provided with your quote. Please consider that orders requiring customizations will require longer lead times. The holiday cutoff for all custom orders is December 10th.
Which frames are eligible for corporate orders?
Our core products include Carver, Mason, Mason Luxe, and Walden. Please use the form below and select "I'm interested in another style" to inquire about other frames.
Which Aura frame is right for you?
Carver

Carver Mat

Mason

Mason Luxe

Walden

Price

$149

$179

$179

$229

$249

Display Size
10.1"
10.1"
9"
9.7"
15"
Overall Size
10.5" x 7.3" x 2.1"
10.5" x 7.3" x 2.1"
9.7" x 7.6" x 2"
9.82" x 7.84" x 2
15.7" x 1.2" x 12.7"
Display Resolution
1280x800


150 pixels per inch

1280x800


150 pixels per inch

1600x1200


224 pixels per inch

2048x1536


265 pixels per inch

1600x1200


133 pixels per inch

Available Colors
Gravel
Sea Salt

Gravel with White Mat
Clay with White Mat

Railing
White Quartz

Pebble
Sandstone

Walden Ink with Textured Mat

Aspect Ratio

16:10: TVs & monitors
4:3: Smartphone cameras

16:10
16:10
4:3
4:3
4:3
Orientation
Landscape
Landscape
Portrait or landscape
Portrait or landscape
Portrait or landscape
Built-in Speaker

Portrait photo pairing in landscape

Available on all frames
Unlimited storage with no fees, photo and video playback support, upload photos using the app, email or a web browser.